My first Ortlieb bag was a modified Downtown, which I attached to a Brompton S frame.  It worked out great.  But when I saw a priced-to-sell Ortlieb Office bag on CraigsList, I had to give it a shot.  The "Ortlieb Office Bag Large Classic" is a clean, minimalist bag that is very well designed (despite some dumb flaws in its interior, which I won't go into).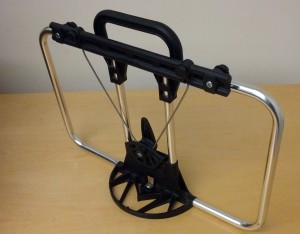 The Office Bag utilizes Ortlieb's QL3 mounting system. The bag's hardware is minimal and perfectly horizontal so it needn't be modified for use on Brompton's S frame.  Though the QL2 mounting system did have a ton of hardware on the bag itself, it was far simpler and much more versatile.  Sure the hooks were bulky, but the bag included all of the hardware needed to clip it to nearly any rack on any bike.  With the QL3, half of the mounting hardware is external.  Therefore, each bike must have it's own proprietary mount in order to accommodate the bag.  And because the hardware is permanently affixed, it renders the rack unusable with devices like the Copilot bicycle seat, which I use on the Blackburn EX-1 rack on one of my bikes.  To overcome this issue I attached a spare QL3 mount to the back of an old set of QL2 clips.  This franken-mount nearly achieves a QL2-level of versatility for the QL3-equipped Office bag, but it is a bit wonky so I don't use it too often.
To attach the QL3 hardware to the S frame, simply remove the metal loops from the top of the QL3 rack, rotate them 180 degrees (so that they "point down") and reattach the hardware (removing the cone-shaped shims so that the mount sits slightly closer to the rack).  The support tongue should point up and the wire supports should flex about a half millimeter so the round base of the tongue fits snugly against the plastic at the bottom of the S frame.  Once the hardware is mounted to the frame, simply click the bag into place and then drop the assembly on the carrier block.
The whole mounting process takes just a few minutes and it is very easy to remove the frame assembly from the bag (in fact you must avoid activating the QL3 release when carrying the bag as the frame assembly will fall off).