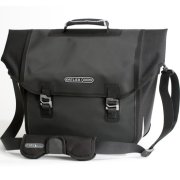 Brompton sells a bag made by Ortleib.  The good folks at Bicycle Habitat have one in stock and it's beautiful.  But they're asking $350 for it!  That's too much money.  Eric, at Bicycle Habitat, showed me the Ortlieb "Downtown" and we both agreed that with some tweaks (he reckoned one Sam-Adams'-worth, I figured closer to two) the bag would fit easily on my existing S-frame.  The Downtown retails for a still-steep, but slightly more reasonable, $150 (ouch! REI is selling it for $104).
I don't normally drink Sam Adams, but in honor of Eric I got two from the corner bodega and broke out the tools.  Happily, the inner lining of the bag zips open to reveal the padding and guts within.  With a phillips screwdriver and torx wrench I removed some grommets, nuts, and bolts and the quick-release mount came off easily.  Then I measured and drilled new holes for the straightened bracket.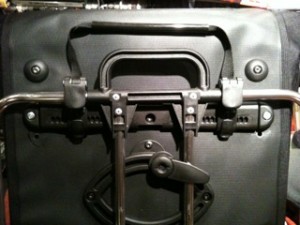 Measuring for the S-frame, the bracket landed between the two existing mount points, about a half inch (at center) above its factory location.  I had to relocate the stabilizing cleat to the upper radius to clear the Brompton S-frame's hardware.
The Downtown bag is slightly larger than the Brompton O bag (30 liters vs 22 liters, based on my own measurements) and is, in my opinion, better looking.  The mount certainly isn't as elegant as the built-in Ortlieb/Brompton O bag mount (which is really nicely done).  But come on… the modified Downtown costs half (or 1/3) as much and is twice as flexible!  I can now use this bag on any of my other bikes with a rear rack (I'll simply remove the bag from the S-frame and click it onto my other bikes' rear pannier rack).
Also, I have the satisfaction of having built it myself.  Degree of difficulty: 1/2 Sam Adams.